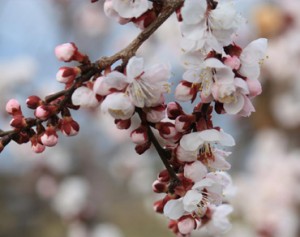 Who We Are
As a guest at the Cherry Chalet you will discover a great place to enjoy the warm sunshine, relax by the koi pond and listen to the soothing sounds of the waterfall on your outdoor patio. You may want to take a stroll through our working cherry orchard and vineyards with access to miles of nature trails.   Or just spend the evening relaxing by the gas fire place on the outdoor patio.
There are three unique accommodations at the Cherry Chalet each with a private entrance and plenty of space for social distancing.   We are within an hour's drive from 100 wineries and minutes from the local mall, convention center, and seven full length golf courses. Call us to inquire about small parties and receptions.
Our History
A little bit about our past
Steve Sauer purchased the working cherry farm from his dad Leonard in 1994 and has continued grow cherries and began planting grapes.  Steve has transformed the property from farm to a tranquil getaway full of his creative and artist nuances.  Some call it an "oasis and a little bit of paradise close to town ."
This 2nd generation farm has cherry harvest in early June and among those cherries harvested are Rainier, Bings, Van, and Lapin's. In addition to the cherry orchard Steve Sauer is a up and coming vineyardist and winemaker and owner of Farmhand Winery.   The boutique winery  features estate grown grape varietals, hand crafted into award winning wines.  Tasting room is open to the public Saturdays from 12- 5pm.  Guests receive a discount price.